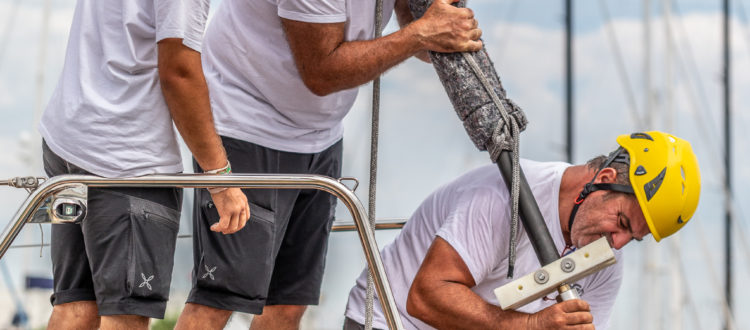 Sail'Solutions-RigPro Italy consolidates its team of super-specialized riggers
Fano – Sail'Solutions, official RigPro dealer for Italy and distributor of brands such as Southern Spars, Haall Spars and FutureFibres, consolidates its team of super-specialized riggers in view of important professional challenges expected over the next few months.
Francesco Pizzuto, leader of Sail'Solutions-RigPro Italy, explains: "The slowtimes of the pandemic are fortunately a memory and the pace of recovery is becoming interesting. Customers show a different urgency than in the past, the market, in particular that of maxi yacht, has been revived and events such as the America's Cup, scheduled for Barcelona, ​​will bring with them new opportunities. It is no news that the most beautiful yachts in the world tend to come together to celebrate the finals of the America's Cup. a lot of movement in those parts in the months to come and as RigPro Itay we want to be able to count on a team that is always ready to intervene. This is a double guarantee: for us to be able to face any eventuality without being short of resources, for customers to have time activities which will be accompanied by what we consider ordinary: already in the first months of next year we will follow the launch and the rigging of some important maxi and the king fitting of some prestigious hulls".
The senior riggers Fabrizio Lisco, whose experience will allow him to coordinate the working group as Project Manager, and Davide Sogiu, team manager in the world of the Superyachts, therefore become part of the Sail'Solutions-RigPro Italy staff. The position of Luca Pizzuto is also consolidated, whose roles will range from rigger to back office assistant. Other names that gravitate in the orbit of Sail'Solutions-RigPro Italy are those of the COO Daniele Raddavero, of the Project Manager Alessio Zucchi, specialized in Superyachts, of the riggers Davide Venturuzzo and Bruno Baccherini, of the customer service manager Patrick Pollidori, the office manager Elisa Simoncini and the head of administration Sara Ridolfi.