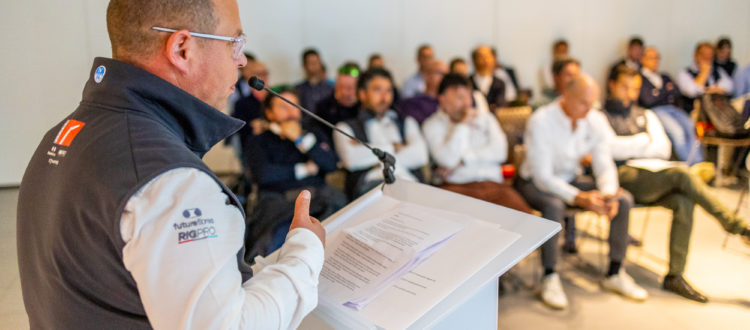 The maxi world gathered for the Tech Talk Italy 2023 by RigPro Italy
The Tech Talk 2023 was held on Wednesday at the Tag Hotel in Fano, an event reserved for operators in the maxi yacht sector organized by Sail'Solutions-RigPro Italy, present with the entire staff, starting with the CEO Francesco Pizzuto and the project managers Fabrizio Lisco and Daniele Raddavero.
About fifty people were invited, including captains, team managers, representatives from the main sailmakers and the most prestigious realities of the international shipbuilding industry. To entertain them, introduced by Francesco Pizzuto, a panel of experts, who feed the ranks of companies belonging to the RigPro galaxy.
Geert Kuyper of Hall Spars took turns on the podium, who explored topics relating to the transformation of a concept into an executive project; the sales manager of Future Fibers, Marco Sevila, who spoke on the methodologies for approaching the project; Benjamin Madec of Synapse, who spoke about the new cargo monitoring system developed by his company. The speeches were closed by the project manager of RigPro Giovanni Buono and Andrea Quartulli of Future Fibers, who illustrated the missions and operating methods of their respective companies.
"Apart from the technical contents, useful for keeping insiders updated about the latest news proposed by our partners and the operating methods of each of the companies operating in the RigPro universe, the Tech Talk represented a comparison between professionals who operate at the highest levels in our sector and a pleasant moment of gathering with friends" explained Francesco Pizzuto on the sidelines of the Tech Talk Italy 2023.