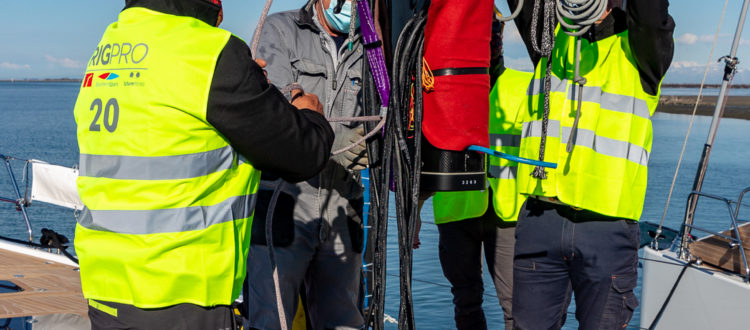 Sail'Solutions: discovering the rigging' specialists
Fano (PU) – Known to most for the services and the stepping performed in the Maxi universe, Sail'Solutions-RigPro Italy represents the universal solution for those who need advice, maintenance or an upgrade the rig of their sail boat.
A solution that relies on the almost thirty years of experience of Francesco Pizzuto, former partner of Velamania and rigger of BMW Oracle Racing in the 2010 America's Cup winning campaign, and on the professionalism of a heterogeneous team, capable of intervening in every corner of the National territory quickly and efficiently.
A story that began in 2014 when, already a partner of Southern Spars, Francesco Pizzuto's company became part of the RigPro network, a global provider of rigging services and cutting-edge technical solutions for any type of sailing boat. A collaboration that has made Sail'Solutions-RigPro Italy the exclusive dealer of leading brands such as the aforementioned Southern Spars, Hall Spars and Future Fibers.
"Projects such as the Solaris 111, the Advanced 80 or the Vismara / Mylius 64 have undoubtedly been fascinating and have been useful for making us known and appreciated in the sailing world, but our business is much more complex and is made up of a universe of little ones and major interventions on boats starting from nine meters in length, of a constant relationship with customers, who know that we can find the best solution – explains Francesco Pizzuto from the headquarters located at the Marina di Fano – Solution that we often realize be not so much a spare part, a new mast or boom, but much more simply an useful advice to have the best from what you already have".
"I have always been one of the greatest supporters of collaboration between companies operating in the same sector and moving in this perspective I have always tried to start partnerships with those who can make unique and enhance the range of services offered" concludes Francesco Pizzuto, aka Il Gabibbo.
As mentioned, Sail'Solutions-RigPro Italy counts on a close-knit team, each component of which acts as a different accessory of a multifunctional pocket knife. To date, in addition to Francesco Pizzuto, are part of it Elisa Simoncini (sales department), Patrick Pollidori (technical department), Fabrizio Lisco (project manager and rigger), former rigger of Luna Rossa Prada Pirelli Team at the last America's Cup. Alessio Zucchi (project and service manager) and Luca Pizzuto (administration/media).